A 2-year cycle is typically required to complete full state-wide imagery coverage for all of Missouri. Each imagery cycle has a slightly different number of counties covered in a single year. Whatever is not collected in Year 1 is always picked up in Year 2. The state sponsored flights are always a leaf-off product.
A Project Assessment Quotation (PAQ) was released in January 2022, asking for cost estimates to fly approximately 1/2 of the state. The decision was by the greater GIS community to complete the southern portion of the state (as opposed an east / west split), for Year 1. With a partnership on flights done in the Kansas City region, more than half the state was collected.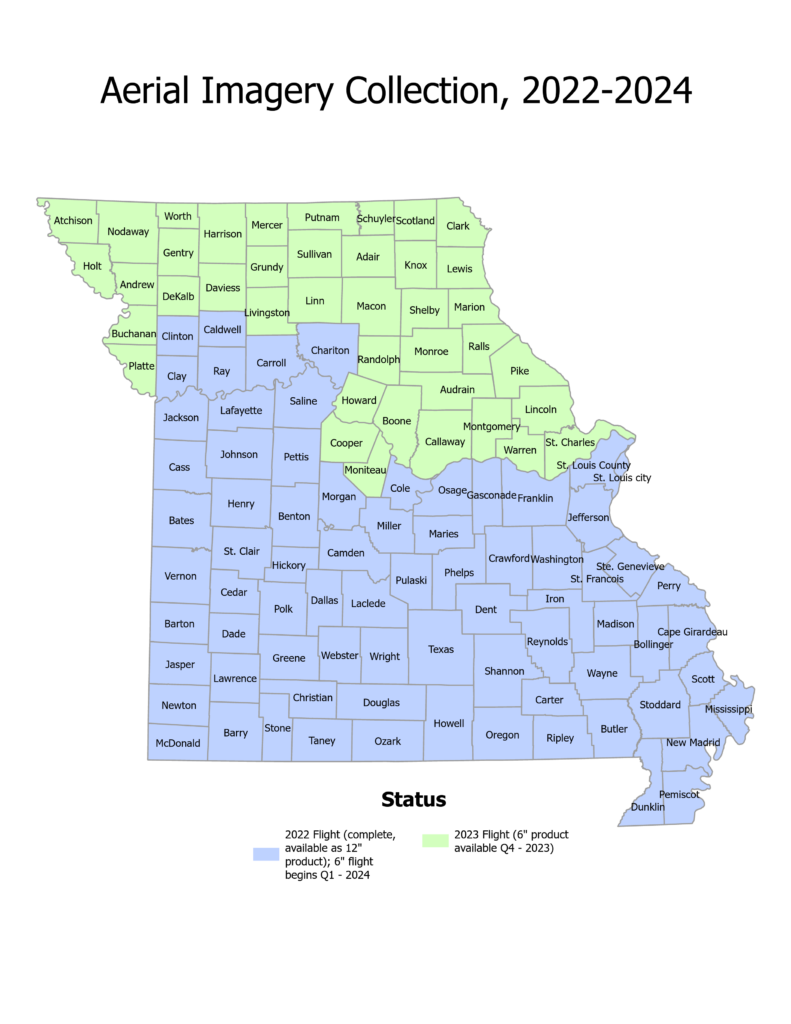 The 2022 imagery is available as a streamed image service from the state GIS clearinghouse at no cost. It contains the counties shown in blue in the above map. Individual county mosaics will be available at no cost for download Q3, 2023 from the clearinghouse.
In January 2023, a contract for the remaining counties, shown in green was awarded to Sanborn. The resolution for this flight was upgraded to a 6″ product. The flight was started in February 2023, and completed April 2023. Anticipated availability of this data is late Q4, 2023. When complete, a streamed image service including both the 2022 and 2023 flights will be available as a single service.
Looking Ahead
In early spring of 2024, the southern 2/3 will be re-flown at a 6″ resolution. State-wide coverage at a 6″ resolution supports ongoing NextGen 911 efforts.
There is a window of opportunity for counties in the coverage area (shown in blue) for the 2024 flight wishing to utilize additional "buy up" options to collect other imagery products or resolution finer than 6″. Counties should work with Sanborn directly. Pricing is generally lower when a plane is in the vicinity already, collecting the state project.
When completed, Missouri will have border to border coverage at this resolution. A streamed image service of the 6″ resolution will be created. This is anticipated for Q4, 2024.
A presentation from the Missouri GIS Advisory Council goes over this project in greater detail.